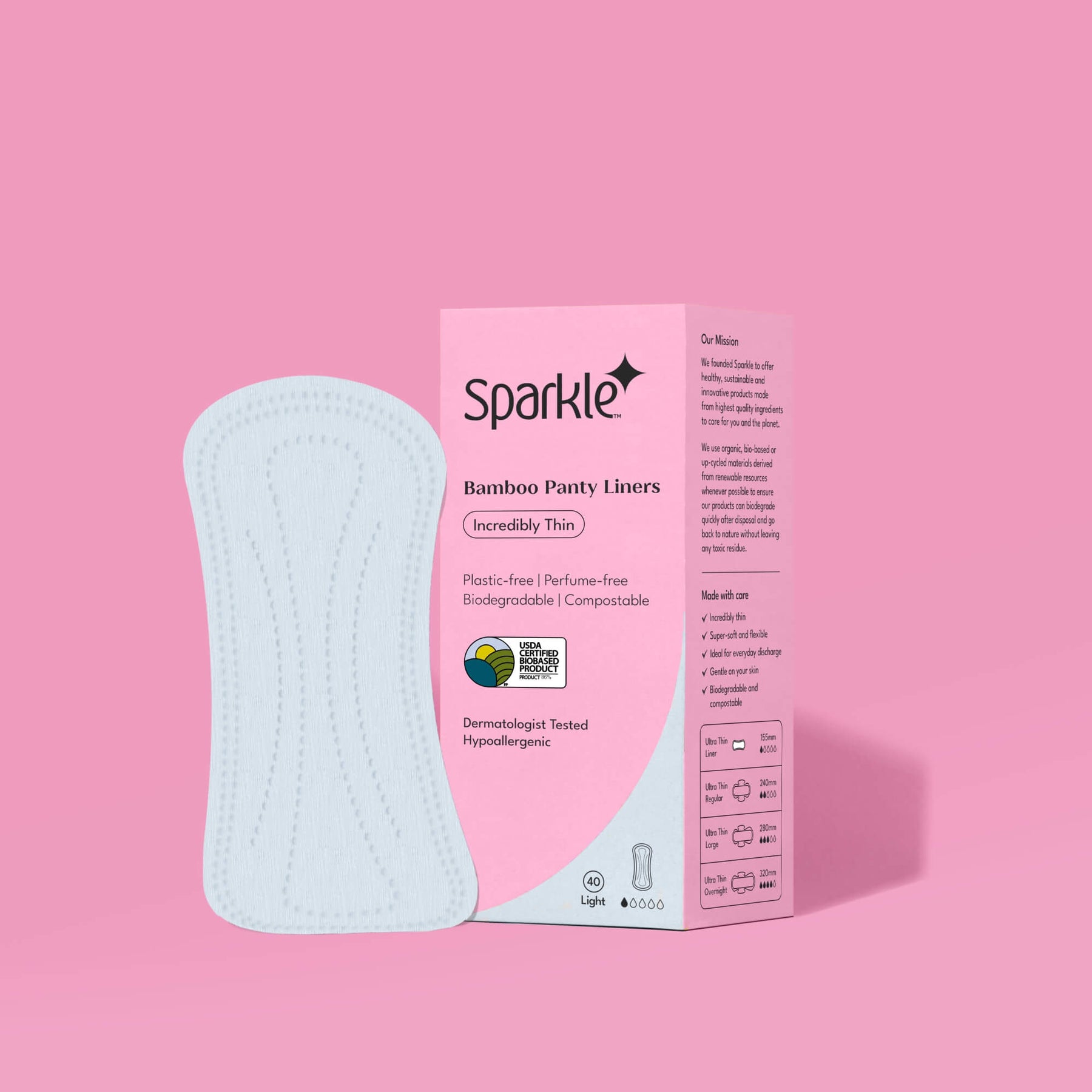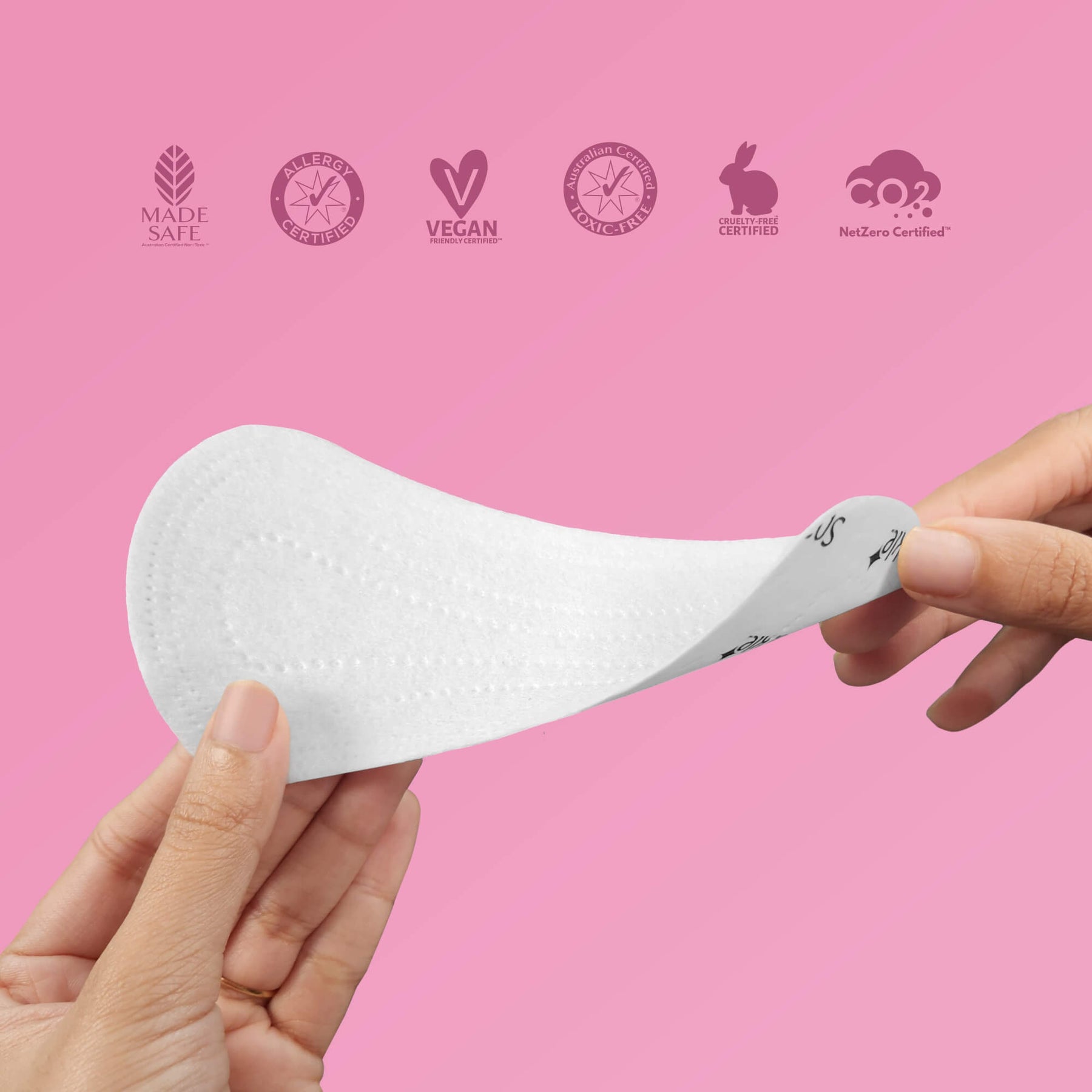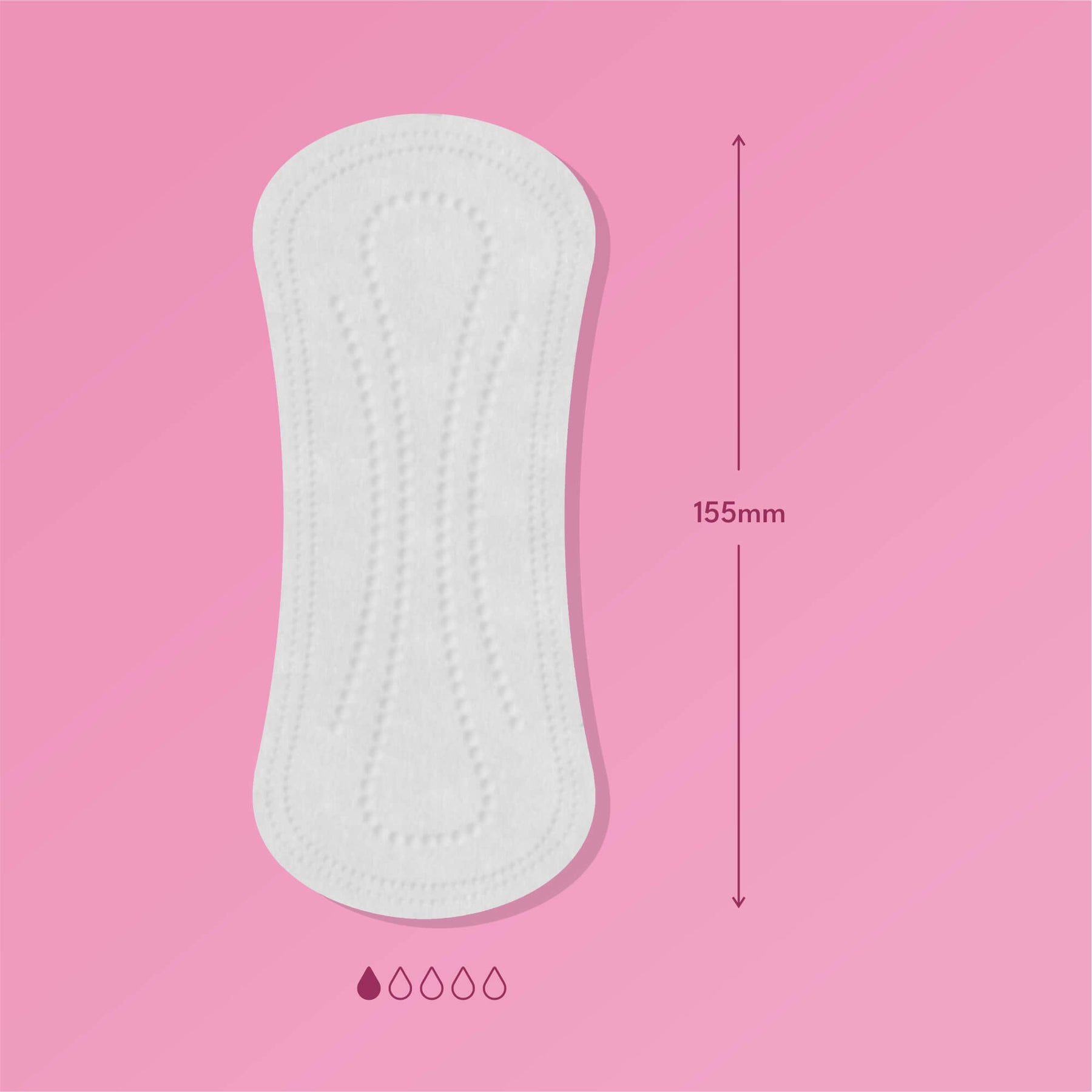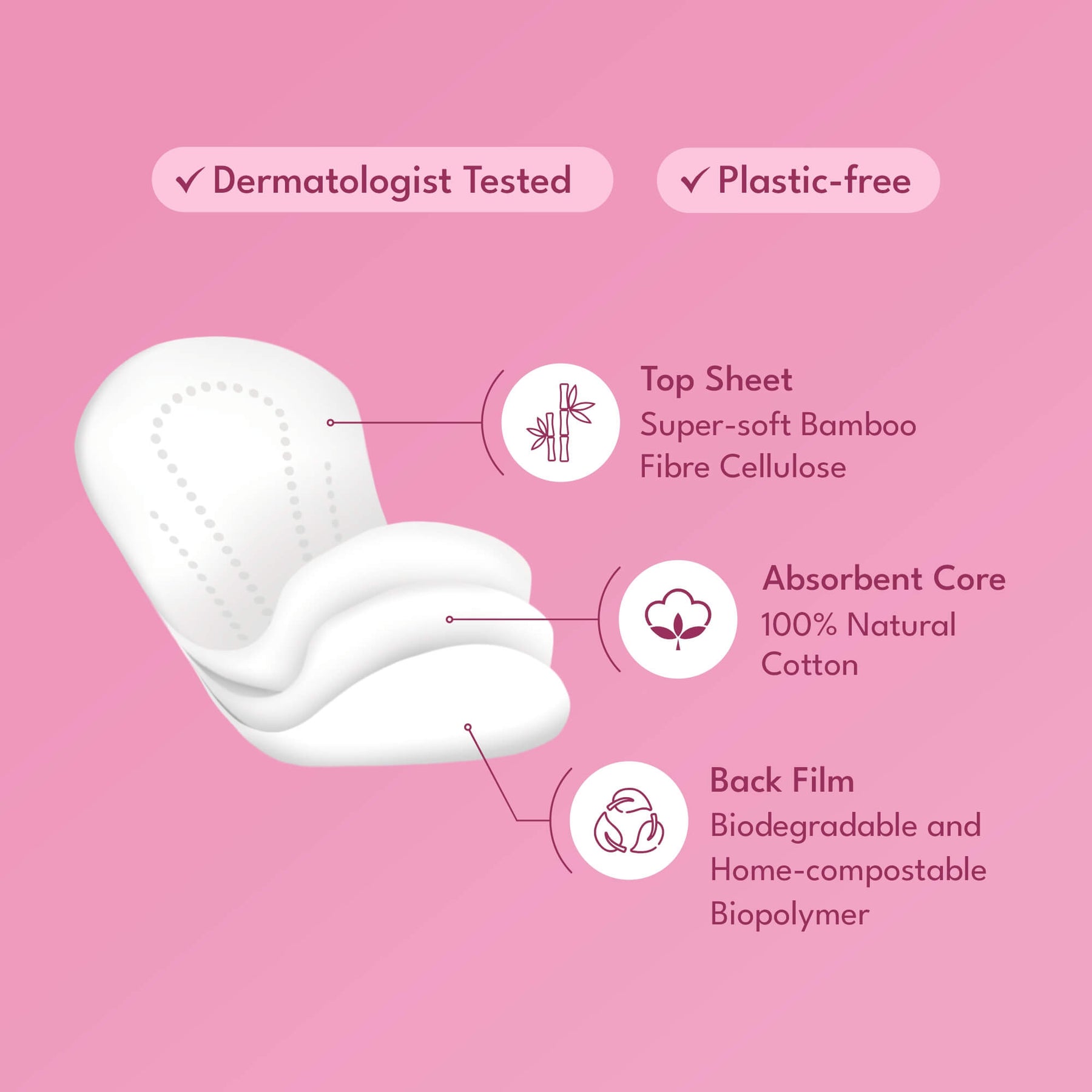 Bamboo Panty Liners
40 Incredibly Thin Liners
Compostable panty liners crafted with sustainable plant-based ingredients that are designed to biodegrade and go back to nature in warm and humid conditions
Free shipping on orders above ₹349
Made With Care:
Incredibly thin
Super-soft and flexible
Ideal for everyday discharge
Gentle on your skin
Biodegradable and compostable
Plastic-free and fragrance-free
Ingredients
Made with
Top Sheet: OEKO-TEX and FSC certified bamboo fibre cellulose
Absorbent Core: 100% natural cotton
Back Film: Made with TUV Austria certified biodegradable and home-compostable materials
Other: Silicone-coated FSC certified release paper, non-toxic adhesive, bio-based adhesive
Packaging: Carton made with cellulose-based natural fibres, recycled cardboard and paper tape
Made without
Plastics, polypropylene, polyethylene, sodium polyacrylate, artificial fragrance, deodorant, dyes, chlorine bleach, latex, parabens, formaldehyde, dioxins
Product Quality & Safety
Sparkle's manufacturing facility has been audited by independent third-party organizations to verify that our quality management and product safety protocols meet international standards. Besides being US FDA registered, our manufacturing facility is also ISO 13485 and ISO 9001 certified.
ISO 13485 certification demonstrates that we have met all the strict regulatory requirements for our medical devices through increased transparency while maintaining high-quality standards through documentation, tracking, and feedback loops.
ISO 9001 focuses on quality and consistency. It ensures that we deliver high quality products consistently that meet all regulatory requirements.
US FDA (The US Food and Drug Administration) is an American organization responsible for protecting public health by ensuring the safety, efficacy, and security of drugs, biological products, and medical devices.
FAQs
Unlike conventional panty liners that can contain a large amount of plastic and synthetic chemicals that may cause rashes or irritation, Sparkle panty liners are made using natural, sustainable and renewable ingredients that are soft on your skin and gentle to the planet.
We have designed Sparkle panty liners by focusing on the entire product life cycle starting from choosing sustainable ingredients to their responsible disposal. Therefore, Sparkle panty liners are also compostable which means they designed to biodegrade in warm and humid conditions.
Most conventional panty liners are made using non-biodegradable petro-chemical by-products, artificial fragrances and dyes. When they are disposed of, they either end up in landfills where they remain unchanged for over 500 years or they are incinerated which may release harmful fumes in the environment. If the used products are flushed down the toilet, they end up in oceans and water bodies, harming precious marine life.
Sparkle panty liners are made using biodegradable and compostable ingredients which makes them commercially compostable according to EN 13432 meaning Sparkle panty liners are capable of breaking down into organic matter in 4-6 months under composting conditions and go back to nature without leaving any toxic residue. Since our back film is made using certified home-compostable materials, it is also possible to compost Sparkle panty liners at home.
Conventional panty liners contain plastics, artificial fragrances, dyes and many other chemicals that can make your skin itchy and uncomfortable. Plastic can create sweaty and humid environment near your most intimate areas.
Sparkle panty liners do not contain polypropylene (PP), polyethylene (PE), sodium polyacrylate, artificial fragrances, deodorants, dyes, chlorine bleach, latex, parabens, formaldehyde, dioxins, chloroform.
At Sparkle, we believe that your personal care products should let your skin breath all day long. With feather-soft top layer made with bamboo fibre cellulose, central core made with naturally absorbent cellulose fibre and leak-proof bottom layer made with plant starch, Sparkle panty liners are good for you and good for the environment.
The best way to dispose of Sparkle panty liners is to compost them so they can go back to nature in the most sustainable way.
If there are composting facilities where you live, Sparkle panty liners are commercially compostable according to EN 13432. Since our back film is also made using certified home-compostable materials, it is possible to compost Sparkle panty liners at home.
If you don't have a compost bin, you may dispose of Sparkle panty liners in a normal waste bin.
Sparkle panty liners are manufactured in India at our Surat, Gujarat plant.
Most gynaecologists recommend changing your panty liners at least once every 4-6 hours.
How Sparkle products are made
We strive to optimize operational efficiencies through innovations and improvement in both machine design and process flow at our 50,000 sq. ft manufacturing facility. But we give as much emphasis (if not more) to hygiene parameters as well.

We follow strict manufacturing process controls at every step of our production process - our production area, which contains the fully-automatic Italian pad production line, has epoxy flooring and central air conditioning with positive pressure.

With hand sanitizers installed at every entry point, compulsory hair nets, uniforms and safety shoes, all our technicians, engineers and operators also follow similar strict hygiene controls. Our dust-free production area is equipped with an advanced heating, ventilation and air conditioning (HVAC) system that is designed to maintain a Class 10000 Clean Room environment.

Hear it from customers who've got their Sparkle on
I dared to try anything other than Whisper after 25yrs and this is magical. My entire period cycle was done with using only 4 pads. They were so absorbent and felt like I'm not wearing anything at all.
Kriti Sonkar
Bengaluru
I gave Sparkle pads a try because I love how this brand supports circular economy and donates pads to underprivileged girls. Their pads are really soft and comfortable. Finally a brand with a great product and a greater initiative.
Mahak Sangal
Chennai
Absolutely love how soft and comfortable these pads are. I have never tried a pad so soft. Individual disposal bags are really convenient. Sparkle is a complete package.
Ankita Juneja
Mumbai
I bought these pads after my sister told me to check them out. I can't believe I didn't try them earlier. Will be definitely be ordering more in the future.
Tammana Chaba
Delhi